A new report from yes. every kid. details how education tax credits offer a streamlined approach to empower families and improve education.
With a family-first perspective on both policy development and implementation of education tax credits, the report serves as a resource for lawmakers across the nation as they seize this national moment for educational freedom for every kid.
Tax credits are broadly popular across the nation and can quickly and easily serve families looking to build their kids' unique educational experience outside of the traditional public school system. According to a national survey from YouGov and yes. every kid. foundation., two-thirds of Americans, including 80% of parents, said that expanding parental choice through Education Tax Credits would strengthen education.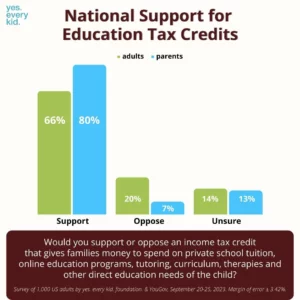 The report highlights Oklahoma's first-in-the-nation, universal, refundable tax credit passed and enacted in 2023, and offers a how-to guide for state lawmakers to develop a strong education tax credit policy.
Please contact Nick Murray, public affairs manager, at nmurray@yeseverykid.com or 703-298-9178 with any questions or requests for comment.